Making Custom Jewelry in Colorado for over 35 Years.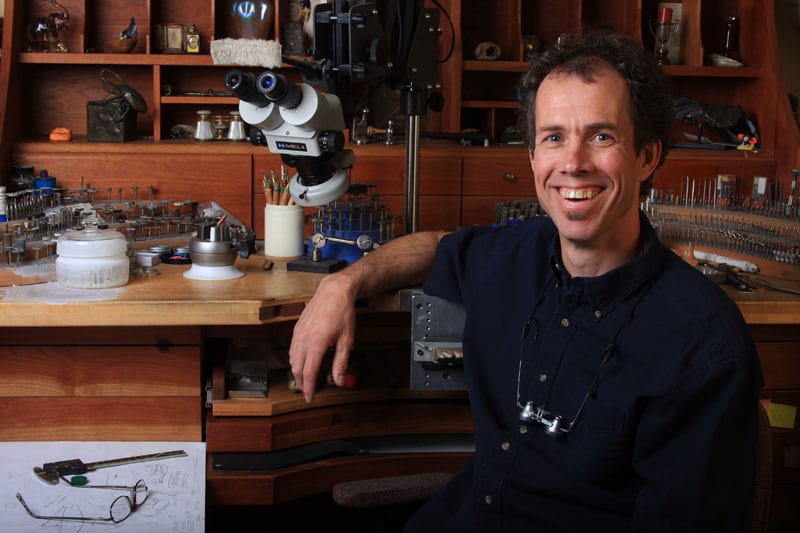 I've dedicated my life to the art and craft of fine jewelry and I approach my work with great pride and integrity which is why I am one of a small handful of JA Certified Master Jewelers throughout the United States. Achieving this certification required completing over 40 hours of bench testing along with a written exam. My credentials are unique in that along with my Master Jewelers Certification I also am a GIA Graduate Gemologist. It is my aspiration to ensure that the Cronin experience is truly unique.
Like local artisans in days past, my staff and I design and create custom jewelry every day in our shop in Boulder, CO. For more than 35 years, we've fabricated gold and platinum, set stones, cast precious metals and performed difficult repairs and restorations. Our passion and purpose is to create high quality, personalized designs in metal and stone. We want you to feel like you have purchased a work of art that will be passed from generation to generation.
Stop by and you will hear the sound of polishing wheels, centrifugal casting machines, and the hum of artisans busy at work. Whether you need assistance in the process of developing your custom vision, or would like to check out our cases filled with emerging designers, enduring European lines or vintage jewelry, just ask – our warm and knowledgeable staff will guide you to ideal adornment. Our expertise in every aspect of jewelry design and execution, as well as our outstanding reputation in the community, sets Cronin Jewelers apart from the rest.
Our Team
Bill: Founder, Designer, JA Certified Master Jeweler, GIA Graduate Gemologist, Survivor of "The Hill", Catcher of Steel Head Trout Brian: Accomplished Jeweler, CAD Monster, Caster of challenging metals especially Platinum and Palladium, a man of mysteryCarrie: Manager, Multi-tasker extraordinaire, GIA Graduate Gemologist, Custom Design Specialist, Runner of long distances
Matt: Skillful Jeweler, Electric Skateboarder from the Future, Solder Superstar, Wisconsin Cheese Virtuoso, Wax Model Prep Pro, Late Night Gamer
Marcella: Bookkeeping Pro, Fashionista, Rock Clinger, Beach Girl, In Line Skate Speedster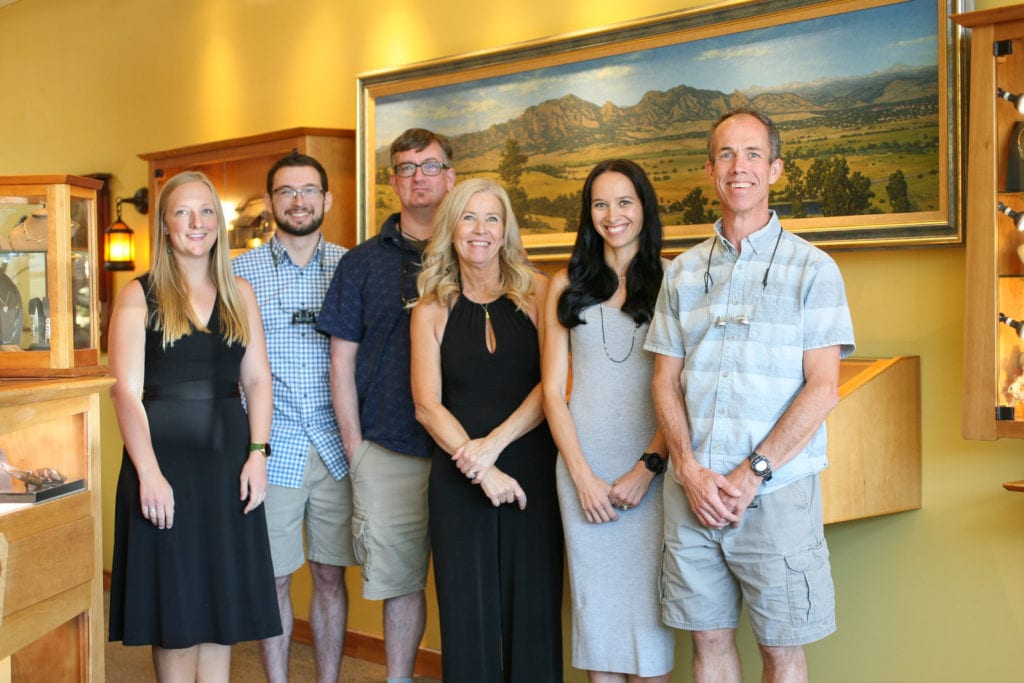 Custom Jewelry Denver
Looking for custom jewelry in the Denver Metro area? Why not make a day of it. Head for the mountains, and drop by for a chat about collaborating on a work of art that can be worn for generations to come. Every ring will fit differently, depending on width and design, and while we serve customers nationwide, a sizing and discussion of design details in person with tangible visual aids is always ideal.
Getting married? Check out our custom engagement rings and vintage jewelry. Contact us to learn more about Cronin Jewelers and how we can design custom jewelry for you.