Our passion and purpose is to create high quality, personalized designs in metal and stone.  At Cronin we do our best to make smart, educated, and ethical decisions when it comes to the pieces we sell. We don't just sell jewelry, we make it, including our ethical lab-created diamonds right here in Boulder Colorado. Our hope is you will purchase a work of art that will be passed from one generation to the next, and that this wearable piece of art should be thoughtfully crafted and inspired by you.
Ethical Lab-Created Diamonds and Gemstones in Boulder, Colorado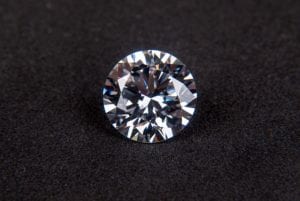 To help reduce the impact that diamond mining has on our Earth, we have been offering Boulder lab created diamonds as an ethical alternative to traditionally extracted gems. Natural diamonds can be formed under very high pressure and temperature conditions deep inside the earth. Using advanced technology, sophisticated laboratories now make lab created diamonds (also known as cultured diamonds or synthetic diamonds). While these terms may sound different at first glance, they're all referring to the same thing: a diamond that was created by man, not in the earth!
We support the Kimberly Process and other initiatives which prohibit the sale of diamonds and gemstones to fund violence. All of our loose diamonds are GIA (Gemological Institute of America) certified, which means value and quality are assured for every single one.
Our desire to be an ethical, caring company extends to our customers as well. We provide a consulting process that's designed to help clients explore purchase options and understand how to make the best decision when it comes to their diamond purchase.
Lab-Created Diamonds: An Ethical Solution
Lab created diamonds have exactly the same material, chemical, optical, and physical properties as diamonds that are mined, and are just as hard and durable as mined diamonds. They are also cut in the same manner and with the same precision. Other gemstones, including rubies, sapphires, and emeralds, can also be made using a laboratory process, and retain the same beauty as mined gems without you having to worry about ethical sourcing or environmental impact.
On top of being a more ethically-conscious option, lab-grown diamonds and gemstones are less expensive than their mined counterparts. Cronin Jewelers offers ethically-sourced diamonds and gemstones as options in our custom-made, in-house pieces.
Ethical Recycled Metals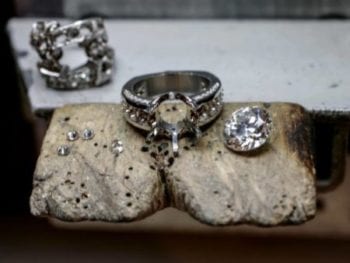 For more than 30 years, Cronin Jewelers has worked with recycled metals and materials in our jewelry creation. Using recycled and re-refined gold and platinum, we are able to create beautiful pieces that will be worn with pride.
Cronin Jewelers offers recycled precious metals that are made in the U.S., and also certified recycled content by SCS Global Services. Our customers enjoy unique, eco-friendly, ethically responsible jewelry that's custom-made in our Boulder workshop.
Ethical Artisans
We strive to work with designers who have similar beliefs as we do. Like us, they offer jewelry using recycled metals and ethically sourced stones. When Bill Cronin started making jewelry it was in his own personal studio, by hand. It makes sense to continue doing business this way. Come visit our showroom so you can see for yourself other unique designers we have curated over the years.
We strongly believe that there is something sacred in the relationship between artist and patron, and would love to share our designers' stories with you. We always work with partners we love and trust. For Bill, it is in a way about creating an extended family. Look through our Other Designers portfolio to learn more about the artists we choose to work with.
As you consider where to buy your jewelry, we hope you will think of Cronin Jewelers in Boulder, CO. Please stop by our store to see our collections, meet our knowledgeable staff, watch our craftsmen at work, or to find the exceptional, ethical piece of jewelry that is just right for you. Click here to see more of our work.