What better way to represent the many reasons behind the decision to spend your life with a person than a fully custom, handmade, heirloom quality token of your affection? Even if you don't have a particular design in mind, choosing the right custom jeweler is important in order to ensure that you will end up with custom rings that reflect your style, fit within your budget, and are expertly crafted.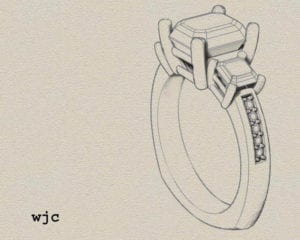 Some people prefer a local jeweler that they can meet with face-to-face; whereas, others are ok with phone and email communication. Cronin Jewelers is a Boulder, Colorado based jewelry store that serves the Front Range and surrounding community, but we have also designed many custom engagement rings and wedding bands for customers that aren't within driving distance.
To develop a piece that is truly one-of-a-kind, clear communication is key – not necessarily location; however, the benefit shopping local is that you are building a relationship with the jeweler and can be more engaged in the design process from start to finish. We offer our customers a wax approval and also the experience of watching the casting first hand. Knowing a trustworthy and talented local jeweler comes in handy if the rings need to be sized, maintained, repaired, or even just cleaned in the future.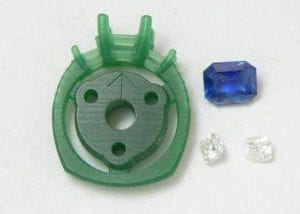 When choosing a jeweler for custom designs, you should spend some time looking through their portfolio, paying close attention to their custom engagement rings and wedding bands, but also noticing other pieces to get a solid idea of the variety they are capable of.
Some jewelers may have excellent rings, but focus on only one style or look. Remember, you want rings that you will enjoy wearing both now and for decades to come. Jewelers that only offer one style or look are less likely to withstand the test of time.
Take note of how many of the pieces in the portfolio are of actual finished works of art, rather than stock catalog pieces, another designer's work, or computer generated images of jewelry. The portfolio should be an accurate representation of the breadth and capability of the jeweler – from initial design to final polish.
The custom jeweler should also list their certifications, affiliations, and how long they've been in business. Some credentials and affiliations are more reputable than others, including:
It is important to ask where the jewelry is cast, who sets the stones, and where the pieces are finished. Many jewelers make it seem that the work is done on site when actually items are sent all over the country before they are completed. This piecework results in a large carbon footprint, a longer turnaround time, and less reliability and control over deadlines.

With each custom jeweler that piques your interest, make sure to also check out their reputation via  their online reviews. If the jeweler is a referral, ask the individual making the recommendation about what they liked, and didn't like about the process of designing their custom engagement rings and wedding bands.They may have valuable insight on how to effectively communicate with that particular designer.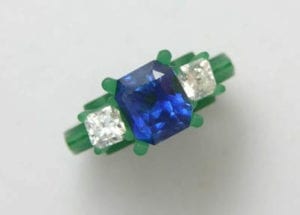 Once you've chosen a jeweler, reach out to them to begin the conversation. Share your thoughts, wants and ideas. It is important to meet with a jeweler that is willing to show you examples and makes suggestions for how to best implement your concept and design. Show with the jeweler pictures or sketches of designs that you like, this gives the conversation a helpful starting point.
Designing and creating a ring is a very personal experience, so make sure that you feel the jeweler is taking the time to understand your perspective. The best experience and final product is born of a collaboration between a detail oriented jeweler, their vast knowledge of construction, design, durability and your unique custom vision and insight.
Some design ideas are more practical than others; e.g. some gemstones are too soft for everyday wear. A good jeweler will advise you on what will be durable and wearable for years to come. We'd also recommend setting aside time to visit the jewelry store so that you can try on different styles of rings to help narrow down the options.

Budget needs to be an important part of the discussion up front. A reputable jeweler should listen to your ideas and make suggestions for how to work within your budget, rather than pressure you to spend more.
A custom made ring that is designed from the ground up will require more labor and time than a pre-made ring that is simply ordered over the phone from a manufacturer or created using a pre-existing mold."
The cost of custom jewelry relates to the intricacy of your design, the scale of your design, and what metals and stones you incorporate into it. Budget, in this regard, often drives the design, which is why it is helpful to have this discussion early in the process.
In addition, it's important to know how long it will take to finalize the rings. If you have an ideal completion date, let the jeweler know so that you will first know if your timeline is possible, and the job can be planned accordingly. Depending on the design, it can take anywhere from a couple weeks to a couple months, from start to finish. Custom jewelry often takes more time and involves multiple meetings. Jewelers are typically busiest around the holidays and wedding season, so allow yourself plenty of time. It's preferable to have the rings finished well in advance of the wedding so that they can be adjusted in size if necessary.