Alternative Engagement Ring Options
If you're looking for something with a little more than the typical pristine Ideal cut modern diamond to profess your love, check out these alternative diamond and non-diamond options for an engagement ring that is authentically you.
Classic Sapphire
The classic Sapphire is deep velvety royal blue. You may recognize this stone from the center piece of "The World's Most Famous Engagement Ring" which belonged to Princess Diana and now Kate Middleton.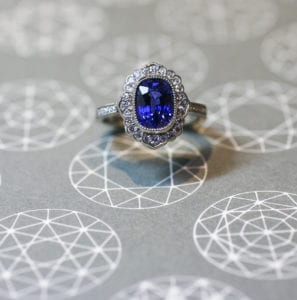 Cushion cut blue sapphire with bead set vintage-inspired diamond halo by Cronin Jewelers.
Sapphires are part of the corundum mineral family. Most corundum contains color-causing trace elements. The trace elements iron and titanium yield the traditional blue sapphire. Only a few hundredths of a percent of iron and titanium can cause the color, and the more iron the corundum contains, the darker the blue. Standing on the Mohs scale at a 9, it is the third hardest mineral around. Blue sapphires range in size, and large blue sapphires are more readily available than large rubies.
Ruby
Also a member of the Corundum family, chromium is the trace element that causes ruby's red color which ranges from an orange red to a more purplish red. Coming in at a 9 on Mohs scale deems this stone a practical choice for daily wear.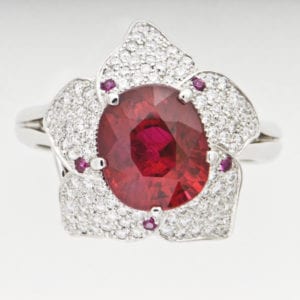 Custom prong set cushion ruby, with pave diamond and ruby accented petals all in platinum by Cronin Jewelers.
The most precious rubies are found in marble deposits mostly in Myanmar, the Himalayas, and northern Vietnam. Stones from these parts of the world will have a lower iron content which makes for a more intense color.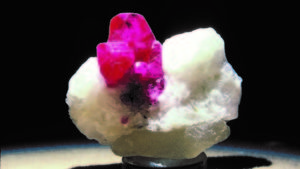 Ruby is the birthstone for July and the gem for the 15th and 40th anniversaries.
Laboratory Grown Sapphires
Did you know that we have had the technology to manufacture sapphires since the late 1800s? Their production is often marked by a need for them in industrial applications outside of the jewelry industry. The first success was in producing synthetic ruby of faceting quality. Lab grown crystals are used in communications and laser technology, microelectronics, and abrasives. Since these stones can be "made to order" [i.e. consistent color and crystal shape] given the right ingredients, time, and the facilities to grow them, they are much less rare than natural gems of equal size, clarity, and saturation of color.
There are strict guidelines regarding how synthetic stones are marketed, sold and their origin must be disclosed to the consumer. Lab grown sapphires have all of the same properties as a natural sapphire- same hardness, same optical, same refractive index, same chemical composition – it is just that their point of origin is a laboratory. These details add up to an environmentally responsible and ethical choice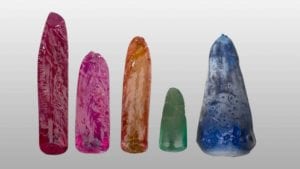 Montana Sapphires
As one may imagine, Montana sapphires come from the great state of Montana and for that reason are an ethical and local option when considering traditional diamond engagement ring alternatives.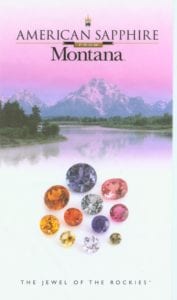 People often think of sapphires as a blue stone, but they actually naturally occur in an array of colors such as shades of green, white, pink, peach, or yellow. Gem quality sapphires are found in four major areas throughout the center of Montana: Yogo Gulch, Missouri River Deposits, Rock Creek, and Dry Cottonwood Creek. The most common color ranges from a steely-blue to a blue/green. Heat treating these stones removes a cloudy quality called "silk" and will improve the depth and vibrancy of color.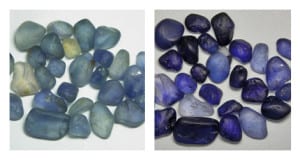 Before and after heat treating.
Color change Sapphires
Some sapphires shift color between purple and violet under different lighting, but a few rare and exceptional sapphires change color dramatically–from grayish or greenish blue in daylight or fluorescent lighting to brownish red in incandescent light. The color-change effect is caused by the interaction of the sapphire, which absorbs specific wavelengths of light, and the light-source, whose spectral output varies depending upon the illuminate. Transition-metal impurities in the sapphire, such as chromium and vanadium, are responsible for the color change.
The value of these special stones is based mainly on size and how dramatic and complete the change of color is. A color change sapphire without inclusions is extremely rare, but for these special stones clarity is far less important than the degree of color-change. They are most commonly found in a small to average sizes in Thailand, Tanzania, and Madagascar in very small quantities.
Laboratory Grown Diamonds
Laboratory grown diamonds have the same physical, chemical and optical properties as mined Diamonds. The only difference between lab-grown and earth-mined diamonds is their origin and price. Materials such as Moissanites, cubic zirconia (CZ), White Sapphire, etc., are simulations that "look" like diamonds.
Grown diamond technology recreates the conditions necessary to grow a diamond crystal above Earth's surface. Grown diamonds are cultivated using two diamond growing processes: High Pressure-High Temperature (HPHT) and Chemical Vapor Deposition (CVD). Like mined diamonds, grown diamonds emerge as rough. They are polished using the same equipment and techniques therefore producing the same brilliance and fire.
There are many reasons to consider a grown diamond as an alternative to an earth-mined diamond. With a smaller carbon footprint and minimal environmental impact, grown diamonds are a responsible choice for environmentally conscious consumers.
Canadian Diamonds
Diamonds were not discovered in Canada until the mid-1980's. Their discovery brought on the largest diamond staking rush in the history of mining. Full operations were up and running in only 10 years.
Today Canada is the 3rd largest diamond producing country in the world and they are well known for their sustainable mining practices and guaranteed "conflict-free" origins. All diamonds mined and cut in the Northwest Territories of Canada are laser inscribed with a unique identification number so that retailers and consumers can assure they are conflict-free stones. All Canadian diamond mines are overseen by the Canada Mining Regulations for the Northwest Territories. This program ensures the preservation of surrounding land and aquatic habitats. Canadian diamonds are the best option for the more classic and traditional, but also Eco conscious gal.
Vintage Diamonds
Diamond cutting technology has changed by leaps and bounds over the years. Prior to the patenting of the first, steam-driven bruting machine in 1874, diamond cutters simply took an octahedron–the most common shape for gem diamonds which consists of two four-sided pyramids attached base-to-base–and manually rounded off the corners to create a cushion-shaped stone. They then faceted the diamond from what was left, creating what today is known as an old mine cut.
Over time the world changed, and diamond cutting evolved with it. The invention of the bruting machine allowed diamond cutters to make round stones instead of just cushion-shaped diamonds, leading to the advent of what today is known as an old European cut. These stones had the same characteristics as the old mine cut diamonds–small tables, steeper crown angles, short star facets, generally large culets and pavilions characterized by short lower girdle facets and fat pavilion main facets–but were circular in shape. All of these characteristics give old cut stones their charm and interest. Recycled diamonds from past eras offer an ethical and unique alternative to new naturally mined round brilliant diamonds.

Moissanite
Although it is naturally occurring, moissanite has only been discovered in a small variety of places from upper mantle rock to meteorites as presolar grains. The variety that is available for jewelry applications is laboratory created. They make a good diamond alternative for a few reasons. Moissanites are transparent and hard, clocking in at a 9 -9.5 on Mohs scale, and their refractive index (2.65 – 2.69) actually exceeds that of a diamond (2.42). Hurrray for more sparkle! They are about 1/8th the price of diamonds. These details make for an option with higher luster, sharper facets and good resilience.
Unlike a diamond, moissanite can be strongly birefringent which means it will split a light beam into two. They display a different kind of brilliance that is often more intense because of the difference in faceting compared to a diamond, which can come off as too much for some. These stones sometimes exhibit a slight green yellow fluorescence color. The larger the moissanite the more noticeable the color may be. Some moissanite stones also have curved, string-like inclusions, which diamonds never have.
Stop by the shop!
We'd love to help you find the perfect engagement ring. Check out our engagement ring portfolio, and visit the shop soon!